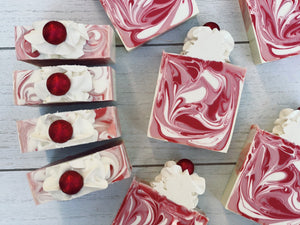 "Indulge in the refreshing and exhilarating 'Peppermint Twist' soap, a delight tailored for all the peppermint enthusiasts out there. This soap captures the invigorating essence of peppermint with a twist of holiday magic.
The 'Peppermint Twist' soap combines the cool, revitalizing scent of peppermint with a hint of sweetness, reminiscent of candy canes and holiday treats. Each lather will awaken your senses and transport you to a winter wonderland, leaving your skin tingling with freshness. Perfect for peppermint lovers, this soap is a wonderful way to celebrate the season, infusing your daily routine with the essence of holiday joy. Embrace the twist of peppermint and make every day a minty-fresh experience!"

"Twisted Peppermint" is a gorgeous bar scented in a crisp, clean, sweet peppermint candy fragrance and essential oil blend. Topped with a glittery red soap topper that makes this bar a gorgeous addition to your holiday bathroom or kitchen decor, and an invigorating shower time experience.
5 ounces
Ingredients: coconut oil, olive oil, RSPO certified palm oil, distilled water with lye (after saponification, lye is not present in finished bar), sweet almond oil, castor oil, coconut milk powder, kaolin clay, sodium lactate, phthalate and paraben free fragrance, skin safe mica colorants.