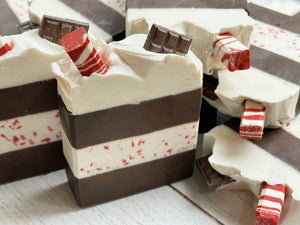 "Introducing our 'Peppermint Cocoa' soap, a delightful treat for your senses that brings the cozy comforts of the holiday season into your bath or shower. This soap is inspired by the classic combination of rich cocoa and refreshing peppermint, a perfect pairing for winter indulgence.
Scented with the invigorating aroma of peppermint and the comforting scent of cocoa, each use of 'Peppermint Cocoa' soap is like sipping a warm, delicious mug of hot cocoa on a chilly day. The scent surrounds you, creating a sense of warmth and relaxation. It's the perfect way to pamper yourself and embrace the spirit of the season, leaving your skin feeling refreshed and rejuvenated. 'Peppermint Cocoa' soap is the ideal choice to bring the holiday comforts into your daily routine."

 I've never wanted to eat soap so bad.  This "Peppermint Cocoa" soap smells just like the rich, warm, chocolate drink my mom cooks on the stove during the winter mixed with delicious peppermint. The Hot Cocoa fragrance has such a warm chocolate scent to it that I have to think twice about the fact that it's not edible. Topped with a soapy chocolate embed and soapy peppermint stick. All soap!
 5 ounces 
Ingredients: coconut oil, olive oil, RSPO certified palm oil, distilled water with lye (after saponification, lye is not present in finished bar), sweet almond oil, castor oil, activated charcoal, coconut milk powder, kaolin clay, sodium lactate, phthalate and paraben free fragrance, skin safe mica colorants.