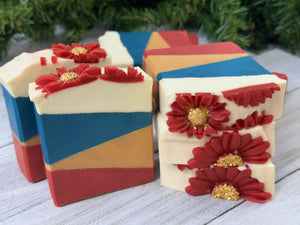 "Welcome the warmth and coziness of home for the holidays with our 'Home for Christmas' soap. This soap captures the essence of the season, offering a comforting blend of scents that evoke memories of home, hearth, and family gatherings. As you lather up, the familiar fragrances of cinnamon, clove, peppermint, and a hint of pine will surround you, creating a sense of being wrapped in a holiday embrace. 'Home for Christmas' soap is the perfect way to pamper yourself or share the feeling of home with loved ones, no matter where they are. Embrace the spirit of the season with this soap and let it transport you to the heartwarming comfort of home for Christmas!"
Scent description: Cinnamon and clove blend with holiday berries, icy peppermint, and evergreen to create this complex holiday scent.

5 ounce bar
Ingredients: saponified oils: coconut oil, olive oil, RSPO certified palm oil, sweet almond oil, castor oil, filtered water, glycerin, coconut milk powder, kaolin clay, sodium lactate, fragrance (phthalate and paraben free), skin safe mica colorants,  bio glitter.