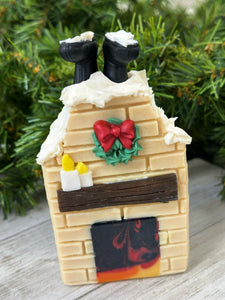 "Introducing our very limited edition 'Christmas Hearth' soap, a true embodiment of the cozy and festive charm of holiday gatherings by the fireplace. This soap is a work of art, with a beautifully crafted scene that captures the warmth and magic of Christmas. 
At the center of this soap, you'll find a fireplace scene with a glowing hearth, adorned with a Christmas wreath, a pair of Santa's boots peeking out from the chimney, and candles gently flickering on the mantle. This soap is not only a visual delight but also scented with a warm and inviting fragrance, reminiscent of hearth fires and holiday spices.
The 'Christmas Hearth' soap is the perfect way to infuse your daily routine with the spirit of the season, leaving your skin refreshed and your senses filled with the nostalgia and warmth of holiday celebrations. This soap is also a cherished gift for friends and family, a beautiful reminder of the joys of gathering by the fire during the holidays. Embrace the magic of 'Christmas Hearth' and make every day feel like a cozy Christmas evening."
scent description: A classic holiday blend of evergreen trees, warm exotic spices and sweet vanilla.

6.5 ounce bar
Ingredients: saponified oils: coconut oil, olive oil, RSPO certified palm oil, sweet almond oil, castor oil, filtered water, glycerin, coconut milk powder, activated charcoal, kaolin clay, sodium lactate, fragrance (phthalate and paraben free), skin safe mica colorants,  bio glitter.