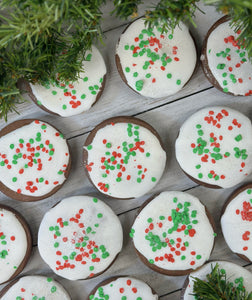 "Introducing our 'Christmas Cookie' soap, a delightful treat for your senses that captures the essence of holiday baking and festive traditions. This soap is scented with the sweet, comforting aroma of freshly baked Christmas cookies, filling your bathroom with the warmth and nostalgia of the season.
Every lather of 'Christmas Cookie' soap will envelop you in the fragrance of sugar, spice, and everything nice. It's the perfect way to indulge in the joy of the season and make your daily routine a bit sweeter. Whether you're treating yourself or sharing the aroma of holiday cookies with loved ones, this soap is a wonderful way to celebrate the spirit of Christmas and leave your skin feeling refreshed and rejuvenated. Embrace the scent of holiday magic with 'Christmas Cookie' soap!"
Scented in the aroma of fresh baked sugar cookies & buttercream, with hints of spices. Topped with red and green sprinkles with biodegradable glitter. 
includes one 2.5 ounce cookie approx. 3 inches in diameter