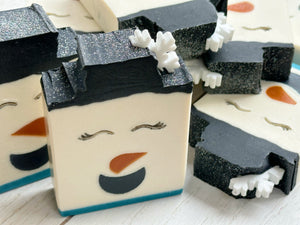 "Introducing our 'Frosty' soap, inspired by the whimsical charm of Frosty the Snowman himself. This soap captures the enchantment of a snowy winter's day, perfect for bringing a touch of magic to your daily routine.
Scented with a crisp and invigorating winter fragrance, each lather will transport you to a world of snow-covered landscapes and jolly snowmen. 'Frosty' soap is the perfect way to infuse your daily ritual with the joy and wonder of the holiday season. Embrace the spirit of Frosty and let this soap leave you feeling refreshed and ready to share in the merriment of the holidays. It's a delightful gift for both young and young at heart!" 

Scent description: scented with a unisex fragrance oil that embraces a romantic musk & sandalwood background, while providing the aroma of delicate winter flowers. 
5 ounces
Ingredients: saponified oils: coconut oil, olive oil, RSPO certified palm oil, sweet almond oil, castor oil, filtered water, glycerin, coconut milk powder, kaolin clay, sodium lactate, fragrance (phthalate and paraben free), skin safe mica colorants,  bio glitter.